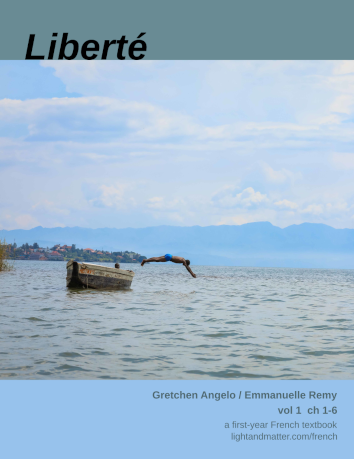 Liberté, by Gretchen Angelo and Emmanuelle Remy, is a first-year college French textbook with a true communicative approach. It has been adopted by instructors at over thirty colleges and high schools (partial list below). The textbook may be downloaded for free in accordance with the license, or printed copies can be ordered.
The PDFs of the books are now stored on the Internet Archive, to which the links below now redirect. We advise that users download a copy of the version ordered for their classes at the beginning of the semester, as the online version may change during the year due to updates. (The revision date is always printed on page 4, so you may easily check whether everyone is using the same revision.)
The text can be read within the Internet Archive viewer or downloaded in Adobe Acrobat format by clicking the "PDF" link on the right of each page, and is freely available under the Creative Commons Attribution-ShareAlike 4.0 International license.
To get the desired volume/edition of the book, click on the appropriate link below. Please note that the hyperlinks may not function within the Internet Archive viewer, but if you download the PDF, they should work.
The audio recordings for each chapter are in MP3 format. The audio is currently available only to institutions using the text; by Fall 2023, the audio links will be integrated into the text. Teachers, to obtain the audio recordings, please email me from your school email address. If you are a student using this book at another university, ask your teacher for the recordings and/or ask them to email me to request them for your institution.
During Spring 2023, Gretchen Angelo is developing beta Canvas versions of the exercises in sections B and C while Emmanuelle Remy is working on additional activities on Canvas; we expect to share these in summer 2023 or earlier. Please contact Dr. Angelo with questions on the Internet Archive versions, the audio recordings, Canvas exercises, or other issues.
About the Authors
Gretchen Angelo teaches French language and literature at California State University, Los Angeles. If you think you might be interested in using Liberté in your classroom, I would love to hear from you. My e-mail address is gangelo2 at calstatela dot edu.
Emmanuelle Remy is a French native who teaches French literature and culture at Pasadena City College, Pasadena, CA.
Partial List of Adopters
Instructors at the following institutions have used
Liberté
in their classes:
Alaska Pacific University, Anchorage, AK
Arizona Language Institute, Phoenix, AZ
Barbados Language Center, Barbados Community College
Besant Hill School, Ojai, CA
Biola University, La Mirada, CA
Burr and Burton Academy, Manchester, VT
California State University, Los Angeles, CA
Calvary Christian Academy, Ft. Lauderdale, FL
Central High School, Corinth, Maine
Central Methodist University, Fayette, MO
Cuyahoga Community College, Parma, OH
Delta Charter High School, Tracy, CA
Dillard University, New Orleans, LA
Ferris State University, Big Rapids, MI
Franciscan University of Steubenville, OH
Gordon State College, Barnesville, GA
Grace Christian School, Alexandria, LA
Hostos Community College, CUNY, NY, NY
Interamericano School, Guatemala City, Guatemala
International IT College, Stockholm, Sweden
Iroquois Ridge High School, Oakville, Ontario, Canada
James Madison University, Harrisonburg, VA
Jemison High School, Jemison, AL
Kennebec Valley Community College, Fairfield, ME
Kishwaukee College, Malta, IL
Lausanne Collegiate School, Memphis, TN
Lethbridge Collegiate Institute, Lethbridge, Alberta, Canada
Los Angeles Mission College, Los Angeles, CA
Lower Canada College, Montreal, Quebec, Canada
McCallie School, Chattanooga, TN
Marlborough School, Los Angeles, CA
Mendocino College, Ukiah, CA
Mount San Antonio College, Walnut, CA
New England College, Henniker, NH
Northeastern State University of Oklahoma, Talhequah, OK
Pasadena City College, Pasadena, CA
Platte Canyon High School, Bailey, CO
Quinsigamond Community College, Worcester, MA
Santiago Canyon College, Orange, CA
Shaw University, Raleigh, NC
Universidad del Valle de Puebla, Tehuacan, Puebla, Mexico
Universidad Humanistica de Mexico, Tehuacan, Puebla, Mexico
University of Dublin Trinity College, Dublin, Ireland
University of New Mexico, Los Alamos
University of Southern Maine
University of Wisconsin, Milwaukee
2016 Poetry Recitation Contest Information